Setting
Overview
An Isthmus where the tiger clans are in the forest to the north, whereas the dragon kingdom lies in the southern hills. In between these two is the war zone known as the Borderlands. To the east and west of the war zone are two mountain ranges: The Tary'n and another nameless one.
Map of Draconia
The Borderlands
The borderlands are a massive system of valleys, pits, and plateaus to nowhere. A perfect warzone, the borderlands are where the majority of the ages-old war take place. At the base of these valleys are anyone's guess. They could be bottomless pits, home to dangerous creatures, or just a valley floor. As of now, it is a mystery.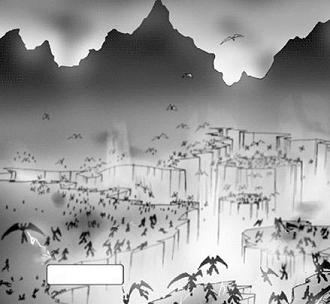 Borderlands
The Tigerlands
The Tigerlands are primitive yet refined. Mostly forest with scattered villages. There are two separate villages that are known: Kiriad's and Mabel's. There is also a sanctuary near Kiriad's village known as the Na'tan'il. This sanctuary is where the males are and where mating occurs.
The Sanctuary
The Dragonlands
The Dragonlands resemble ancient Rome in a way. All the buildings are stone (possibly made by the earth dragons, since there are no visible quarries in the mountains). The most notable feature is the palace with it's four spires, upon the central mount. An important place nearby is Mt.Aet'na. This mountain has served crucial plot points. Originally used by Gaia and Ghislain as a meeting place, and now is currently being used as the origin of the eruption. Could this be a post-death retaliation by Gaia? or possibly Ghislain? It uses the real-life Mt.Etna as a source. The Roman poet Virgil gave what was probably a first-hand description of an eruption from the Aeneid:
"
A spreading bay is there, impregnable 

to all invading storms; and Aetna's throat with roar of frightful ruin thunders nigh. Now to the realm of light it lifts a cloud of pitch-black, whirling smoke, and fiery dust, shooting out globes of flame, with monster tongues that lick the stars; now huge crags of itself, out of the bowels of the mountain torn, Its maw disgorges, while the molten rock rolls, screaming skyward; from the nether deep, the fathomless abyss makes ebb and flow.

"
View from the sky
Themes
The comic has themes associated with each page, beginning with page 147.
Themes with an asterisk next to the number were assigned by me, with three for the overall.
| | | |
| --- | --- | --- |
| *TDC | Planet Hell | Nightwish |
| *TDC | The Chant Has Begun | Level 42 |
| *TDC | Land of Confusion | Genesis |
| *147 | Skies On Fire | AC/DC |
| 148 | Run Like Hell | Pink Floyd |
| 149 | Going On | Gnarls Barkley |
| 150 | M1 A1 | Gorillaz |
| *151 | I Will Survive | Gloria Gaynor |
| *151 | Ordinary Day | Great Big Sea |
| 152 | My Country | Midnight Oil |
| 153 | If Everyone Cared | Nickelback |
| 154 | Suspicion | REM |
| 155 | Feel the Earth Move | Martika |
| 156 | Boogie Monster | Gnarls Barkley |
| 157 | Dust in the Wind | Kansas |
| 158 | Save a Prayer | Duran Duran |
| 159 | Dig | Incubus |
| 160 | Bullet the Blue Sky | U2 |
| 161 | Harder to Breathe | Maroon 5 |
| 162 | Suspicion | REM |
| 163 | The Dead Heart | Midnight Oil |
| 164 | I Will Lead You | Filter |
| 165 | Two Worlds Collide | Inspiral Carpets |
| 166 | Gone | Pearl Jam |
| 167 | Crazy | Alanis Morisset |
| 168 | Robin and Marian | Nickel Creek |
| 169 | Robin and Marian | Nickel Creek |
| 170 | Smoothie Song | Nickel Creek |
| 171 | Smoothie Song | Nickel Creek |
| 172 | Cuckoo's Nest | Nickel Creek |
| 173 | Ode To A Butterfly | Nickel Creek |
| 174 | Speak | Nickel Creek |
| 175 | The Lighthouse's Tale | Nickel Creek |
| 176 | Don't Get Lost in Heaven | Gorillaz |
| 177 | Walk Unafraid | REM |
| 178 | Sweet Surrender | Sarah McLachlan |
| 179 | Hold On | Sarah McLachlan |
| 180 | Into the Fire | Sarah McLachlan |
| 181 | All My Life | Foo Fighters |
| 182 | When the Levee Breaks | Led Zepplin |
| 183 | When the Levee Breaks | Led Zepplin |
| 184 | When the Levee Breaks | Led Zepplin |
| 185 | When the Levee Breaks | Led Zepplin |
| 186 | Gold Dust Woman | Fleetwood Mac |
| 187 | Earth Song | Michael Jackson |
| 188 | Earth Song | Michael Jackson |
| 189 | Earth Song | Michael Jackson |
| 190 | Earth Song | Michael Jackson |
| 191 | These Days | REM |
| 192 | When the Levee Breaks | Led Zepplin |
| 193 | These Days | REM |
| 194 | Fireplace | REM |
| 195 | Disco Inferno | The Trammps |
| 196 | Fire Woman | The Cult |
| 197 | The Lighthouse's Tale | Nickel Creek |
| 198 | The Lighthouse's Tale | Nickel Creek |
| 199 | The Lighthouse's Tale | Nickel Creek |
| 200 | Walk Unafraid | REM |
| 201 | Walk Unafraid | REM |
| 202 | Time to Pretend | MGMT |
| 203 | Time to Pretend | MGMT |
| 204 | The Sounds of Silence | Simon & Garfunkel |
| 205 | Porcelain | Moby |
| 206 | Volcano Girls | Varuca Salt |
| 207 | Volcano Girls | Varuca Salt |
| 208 | Ode to Joy | Beethoven |
| 209 | We are the Champions | Queen |
| 210 | Roll with the Changes | REO Speedwagon |
| 211 | Amber | Afro Celt Sound System |
| 212 | Gold Dust Woman | Fleetwood Mac |
| 213 | Under My Thumb | The Rolling Stones |
| 214 | Under My Thumb | London Symphony Orchestra |
| 215 | Under My Thumb | London Symphony Orchestra |
| 216 | If You're Out There | John Legend |
| 217 | Big Cat | Afro Celt Sound System |
| 218 | Run | Gnarls Barkley |
| 219 | Peacekeeper | Fleetwood Mac |
| 220 | From Yesterday | 30 Seconds to Mars |
| 221 | From Yesterday | 30 Seconds to Mars |
| 222 | Run Like Hell | Pink Floyd |
| 223 | I Will Possess Your Heart | Death Cab For Cutie |
| 224 | Outbreak of Love | Midnight Oil |
| 224a | Linus and Lucy | Vince Guaraldi |
| 224b | Linus and Lucy | Vince Guaraldi |
| 224c | Linus and Lucy | Vince Guaraldi |
| 224d | Roam | B-52s |
| 225 | Brand New Day | Sting |
| 226 | Landed | Ben Folds |
| 227 | Something's Always Wrong | Toad the Wet Sprocket |
| 228 | Skinny | Filter |
| 229 | Here Comes the Sun | The Beatles |
| 230 | Gold Dust Woman | Fleetwood Mac |
| 231 | Ring of Fire | Adam Lambert |
| 232 | Hold On | Sarah Mclachlan |
| 233 | Just A Job To Do | Genesis |
| 234 | I Lie In The Bed I Make | Brother Cane |
| 235 | Peacekeeper | Fleetwood Mac |
| 236 | Peacekeeper | Fleetwood Mac |
| 237 | Israel's Son | Silverchair |
| 238 | Leader of Men | Nickelback |
| 239 | Back in Black | AC/DC |
| 240 | Back in Black | AC/DC |
| 241 | Headstrong | Trapt |
| 242 | Headstrong | Trapt |
| 243 | Sunset Grill | Don Henley |
| 244 | Black Coffee | Everlast |
| 245 | White, Discussion | Live |
| 246 | I Will Lead You | Filter |
| 247 | Natural Blues | Moby |
| 248 | Miss Blue | Filter |
| 249 | Fire and Rain | James Taylor |
| 250 | Weapon and the Wound | Days of the New |
| 250a | Give a Reason | Megumi Hayashibara |
| 250b | Girls Just Want to Have Fun | Cyndi Lauper |
| 250c | Money Maker | Ludacris |
| 250d1.1 | Dark Samus Appears | Metroid 2 |
| 250d1.2 | Aura, Evil Version | Yuki Kajiura |
| 250d2.1 | Lux Aeterna | Clint Manshell |
| 250d2.2 | Unicron Medley | Vince Dicola |
| 251 | Runnin' with the Devil | Van Halen |
| 252 | Boom | P.O.D |
| 253 | The One I Love | REM |
| 254 | Who are You | The Who |
| 255 | Who are You | The Who |
| 256 | Won't Get Fooled Again | The Who |
| 257 | Takin' Care of Business | Bachman Turner Overdrive |
| 258 | Jungle Boogie | Kool & The Gang |
| 259 | Gimme Shelter | The Rolling Stones |
| 260 | Down in a Hole | Alice in Chains |
| 261 | Sister | The Nixons |
| 262 | I Stay Away | Alice in Chains |
| 263 | I Lie In The Bed I Make | Brother Cane |
| 264 | Where The River Goes | Stone Temple Pilots |
| 265 | Invisible Sun | The Police |
| 266 | And Fools Shine On | Brother Cane |
| 267 | Hate My Life | Theory Of A Deadman |
| 268 | Hair Of The Dog | Guns N' Roses |
| 269 | Jungle Boogie | Kool & The Gang |
| 270 | Boom | P.O.D. |
| 271 | Gone Daddy Gone | Gnarls Barkley |
| 272 | Tear You Apart | She Wants Revenge |
| 273 | Sad Sweetheart of the Rodeo | Harvey Danger |
| 274 | -------------- | --------------- |
| 275 | What You Want | Evanescence |
| 276 | Beast | KMFDM |
| 277 | Miss Murder | AFI |
| 278 | All the Things that I've Done | The Killers |
| 279 | Sad but True | Metallica |
| 280 | I Will Lead You | Filter |
| 281 | Run | Gnarls Barkley |
| 282 | Life During Wartime | Talking Heads |
| 283 | Hair of the Dog | Guns 'N Roses |
| 284 | Hair of the Dog | Guns 'N Roses |
| 285 | Slither | Velvet Revolver |
| 286 | Black Betty | Spiderbait |
| 287 | Beautiful | 10 Years |
| 288 | The Pretender | Foo Fighters |
| 289 | My Way | Limp Bizkit |
| 290 | My Way | Limp Bizkit |
| 291 | Master of Light | Monster Magnet |
| 292 | ----------------- | ---------------- |
| 293 | Some Nights | Fun |
| 294 | Some Nights | Fun |
| 295 | Some Nights | Fun |
| 296 | Tear You Apart | She Wants Revenge |
| 297 | The Unforgiven | Metallica |
| 298 | Leader of Men | Nickelback |
| 299 | Barton Hollow | Civil Wars |
| 300 | Ruby | Kaiser Chiefs |
| 301 | The Day I Tried to Live | Soundgarden |
| 302 | Consequence of Laughing | Our Lady Peace |
| 303 | Let It Die | Foo Fighters |
| 304 | The One I Love | R.E.M. |
| 305 | No Mercy | Khaleel |
| 306 | Down By the Water | PJ Harvey |
| 307 | Spark | Tori Amos |
| 308 | Radioactive | Imagine Dragons |
| 309 | Radioactive | Imagine Dragons |
| 310 | Radioactive | Imagine Dragons |
| 311 | Mysterious Ways | U2 |
| 312 | Jungle Boogie | Kool & The Gang |
| 313 | You Oughta Know | Alanis Morissette |
| 314 | Talk About The Passion | R.E.M. |
| 315 | Cornflake Girl | Tori Amos |
| 316 | If I Were You | Hoobastank |
| 317 | Pure | Lightning Seeds |
| 318 | Thank U | Alanis Morissette |
| 319 | Add It Up | Violent Femmes |
| 320 | Heel Over Head | Puddle Of Mudd |
| 321 | The Memory Remains | Metallica |
| 322 | Thank U | Alanis Morissette  |
| 323 | I Stay Away | Alice In Chains |
| 324 | I Stay Away | Alice In Chains |
| 325 | Going South | Wolfgang Press |
| 326 | Fire Woman | The Cult |
| 327 | Fortunate Son | Creedence Clearwater Revival |
| 328 | Fortunate Son | Creedence Clearwater Revival |
| 329 | The Day I Tried To Live | Soundgarden |
| 330 | Run | Collective Soul |
| 331 | Run | Collective Soul |
| 332 | Peacekeeper | Fleetwood Mac |
| 333 | Undertow | R.E.M. |
| 334 | Do You Want To | Franz Ferdinand |
| 335 | Come Out And Play | The Offspring |
| 336 | Orange Crush | R.E.M. |
| 337 | Icky Thump | The White Stripes |
| 338 | The Hardest Button To Button | The White Stripes |
| 339 | The Hardest Button To Button | The White Stripes |
| 340 | My December | Linkin Park |
| 341 | My December | Linkin Park |
| 342 | Rooster | Alice in Chains |
| 343 | Gimme Shelter | The Rolling Stones |
| 344 | Oh My God | Kaiser Chiefs |
| 345 | I Predict A Riot | Kaiser Chiefs |
| 346 | I Predict A Riot | Kaiser Chiefs |
| 347 | The One I Love | R.E.M. |
| 348 | Run Like Hell | Pink Floyd |
| 349 | I Will Lead You | Filter |
| 350 | Tear You Apart | She Wants Revenge |
| 351 | Alive | Pearl Jam |
| 352 | Judith | A Perfect Circle |
| 353 | Drift and Die | Puddle of Mudd |
| 354 | Get Ready | Rare Earth |
| 355 | Sweet About Me | Gabriella Cilmi |
| 356 | Nowhere to Run | Martha and the Vandellas |
| 357 | Peacekeeper | Fleetwood Mac |
| 358 | Common Ground | Rhythm Corps |
| 359 | Common Ground | Rhythm Corps |
| 360 | Enemy | Days of the New |
| 361 | Orange Crush | R.E.M. |
|}|}|}|}|}
All items (1)